Water Slides Rentals AZ Provides Party Rental Services
June 09, 2022 at 15:56
Phoenix, Arizona based Water Slide Rentals AZ is offering party rental services to their community. Water Slide Rentals AZ is widely known for their ability to make every party great in Phoenix and the surrounding areas. Learn more at the following link: https://water-slide-rentals-az.business.site/posts/4498717215931936539?hl=en.
John Hovden from Water Slide Rentals AZ says, "When it comes to party rentals, we are the best of the best. Whatever kind of party you may want to throw, you can rest assured that Water Slide Rentals AZ can help you get everything you need to throw the most amazing event. Birthday bashes, wedding celebrations, retirement parties, corporate events — we have got everything covered. Water Slide Rentals AZ is your one-stop-shop for all your party rental needs."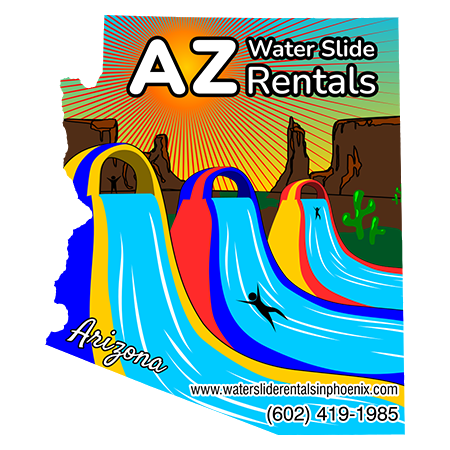 The range of options offered by Water Slide Rentals AZ includes water slides, dry slides, bounce houses, combined slides and bounce houses (known as combos), mechanical bulls, climbing walls, obstacle courses, inflatable games and more. All of these options come in a variety of sizes and shapes, and they are designed to provide wholesome fun for both adults and kids. The company also offers party necessities such as tents, dance floors, portable restrooms, tables, chairs, generators and more. They will also deliver and set up all of the rentals onsite, ensuring that the hosts of the party truly have nothing to worry about.
Hovden says, "At Water Slide Rentals AZ, we are all about making sure that you have fun, and we will do everything in our power to ensure that you have the best party of your life. Our team of party rental professionals can help you plan the perfect event or party. If you already have your party all planned out, you can just book what you need from our website, and you are good to go! Any questions or concerns you may have, we would be glad to help you out; all you need to do is get in touch with one of our team."
Reserving items from the Water Slide Rentals AZ site is an easy process. It is as simple as browsing the site, picking out the equipment, selecting the date of the party, entering the address of the party and then paying a deposit to secure the party rental. All the other details will fall under the responsibility of Water Slide Rentals AZ.
Providing good, quality fun for the residents of Phoenix has earned the company a lot of goodwill and praise from the community. This is reflected in Water Slide Rentals AZ's Google profile, where they boast a perfect 5/5 star rating: https://goo.gl/maps/PkoYafonQubD8VpE6. Jonathan Simonton says in his review, "We booked a bounce house with a double slide for my son's birthday, and it was definitely the hit of the party! I booked last minute (a week prior to the party), and they were able to accommodate and made it so easy to book. Friendly and efficient service. The bounce house/slides were clean, and they even had a banner to put on it that matched his theme. Would definitely use them again!"
Other reviews generally paint the company in an exceedingly positive light across every service they provide. To begin with, customers tend to appreciate their affordable rates, especially in recent years. Furthermore, given the stress involved with planning a large event or party, many find the company's professional approach to customer service to be extremely helpful. This is assisted by the fact that booking a rental is a streamlined, smooth process, and there is little room for error or misunderstanding. All a customer has to do is pick the rental they want and confirm it with the company. Furthermore, certain customers may need additional accommodations that may appear to fall outside the company's scope. In such situations, Water Slide Rentals AZ assures their community that their team will take every action possible to ensure the customer's requirements are met (or point them towards other resources). The customer always comes first.
Those who want to learn more about Water Slide Rentals AZ and the range of party equipment they have on offer should visit the company's website at the following link: https://www.watersliderentalsaz.com/. The website can also be used to directly rent any and all desired equipment. Interested parties can also get in touch with John Hovden via email or phone. Alternatively, there is a contact form on the Water Slide Rentals AZ website.
###
For more information about Water slide rentals AZ, contact the company here:

Water slide rentals AZ
John Hovden
(623) 439-5787
bouncethenslide@gmail.com
5060 N 19th Ave,
Phoenix, AZ 85015